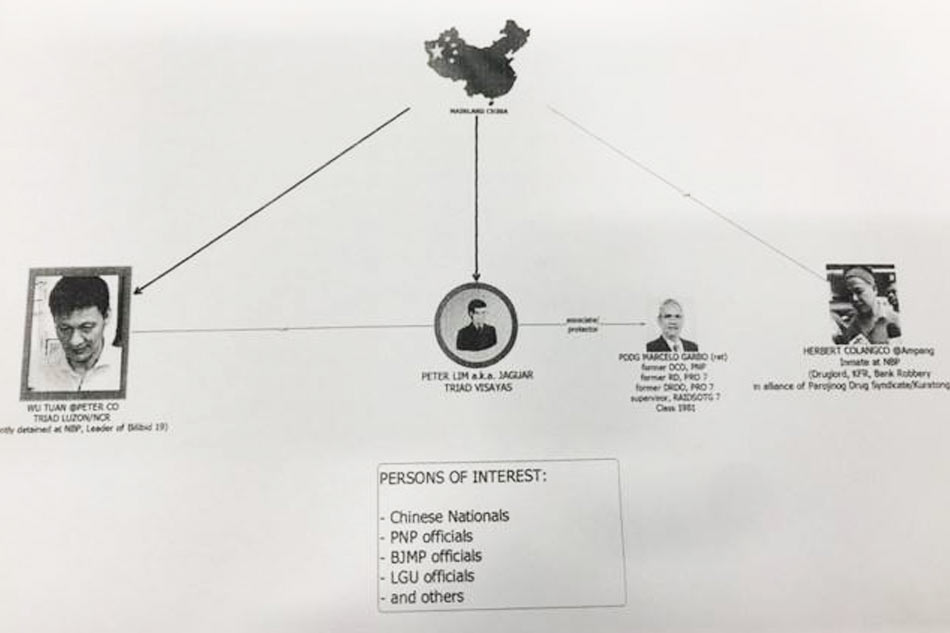 (UPDATED)
The Office of Solicitor General has named Philippines' alleged drug bigwigs, as the Duterte administration continues its crackdown on drug syndicates and users.
Solicitor General Jose Calida has identified leaders of drug syndicates such as Wu Tuan alias Peter Co, Peter Lim alias Jaguar, and Herbert Colangco.
Calida said Co is part of so-called Bilibid 19 gang. Co and Colangco
are currently detained at the national penitentiary, Calida added.
Lim, who is outside the Philippines, has been warned about stepping foot in the Philippines, said Calida.
"Duterte warned him [that] as soon as he steps into NAIA, he will be killed," Calida told reporters in Malacanang.
In a Facebook post, Presidential peace adviser Jesus Dureza also posted photos of Duterte looking at papers supposedly containing names of "personalities in the drug triad in the country."
Photos were taken during Duterte's meeting with key security officials in Malacanang Palace.
The announcement of names won't end soon, as Duterte is expected to identify more key officials allegedly involved in the drug trade.
"Chinese nationals, PNP, BJMP execs, LGU execs, other persons of interest - Duterte will divulge their identities in succeeding press conferences," said Calida.
Calida also explained retired Deputy Director-General Marcelo Garbo Jr.'s alleged role in the drug trade, being the supposed coddler of Lim.
"According to briefing we received earlier, he's level five associate/protector. In short - coddler," said Calida.
"A coddler is one who protects the drug trafficking activities of drug lords. You can find it in Dangerous Drugs Law. Penalty will be given to a drug lord, trafficker and coddler - same penalty," he added.
Garbo earlier denied having ties with drug syndicates, saying Duterte was just misinformed.
"This is a sad day for those who believe in righteousness, integrity, and honesty. I believe the President was fed by people close to him with wrong and poison information," he said, noting that he is prepared to clear his name before Duterte himself.
On Tuesday, Duterte publicly shamed three police officials in active service and two retired top cops, and claimed they were protectors of huge drug syndicates.
Apart from Garbo, also named were Chief Superintendent Vicente Loot (retired), Chief Superintendent Bernardo Diaz, Director Joel Pagdilao, and Chief Superintendent Edgardo Tinio.
All have since come forward to clear their names. They have also vowed to cooperate in the probe.
So what can you say about this one? Let us know your thoughts in the comment section below, and don't forget to share this blog post to your family and friends online. And also, visit our website more often for more updates.