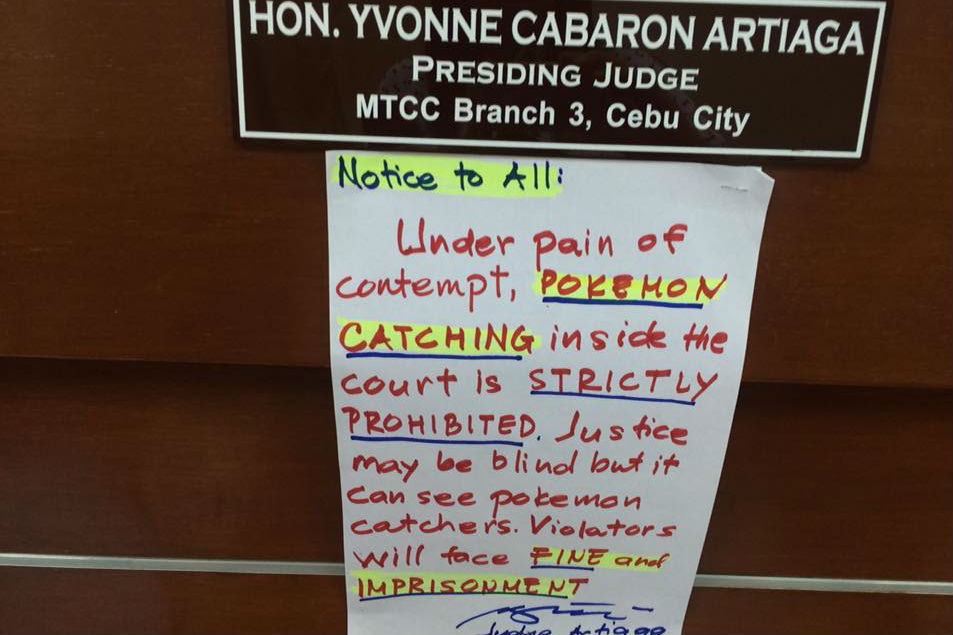 A judge in Cebu City has threatened to charge anyone caught playing the popular mobile game in her court with contempt, as she said it disrupts proceedings.
"Under pain of contempt, Pokemon catching inside the court is strictly prohibited. Justice may be blind but it can see Pokemon catchers. Violators will face fine and imprisonment," said a sign written in blue and red marker on bond paper posted by Judge Yvonne Cabaron Artiaga in her courtroom.
She put up the warning after seeing a witness' companion "smacking" his phone, which she thought was a sign that he was looking for the virtual creatures in the room.
"It is my inherent power to cite anyone in contempt if they disrupt the proceedings in court. They can be fined or jailed," said Artiaga, who presides over Municipal Trial Court in Cities Branch 3 in Cebu City.
The judge likewise posted a sign outside her office door warning visitors to keep their Pokemon hunting away from the judge's chambers.
"Lawyers & Litigants: There is no Pokemon in my chamber. I will use to the full extent of my contempt power for any Pokemon related disturbance. Knock at your own risk," the sign said.
In the Philippines, direct contempt of an inferior court such as the Court of Appeals, the Court of Tax Appeals; the Regional Trial Courts, the Metropolitan Trial Courts; and the Sandiganbayan is punishable by a fine not exceeding P200 or imprisonment not exceeding one day, or both.
Source:
ABS-CBN News
So what can you say about this one? Let us know your thoughts in the comment section below, and don't forget to share this blog post to your family and friends online. And also, visit our website more often for more updates.