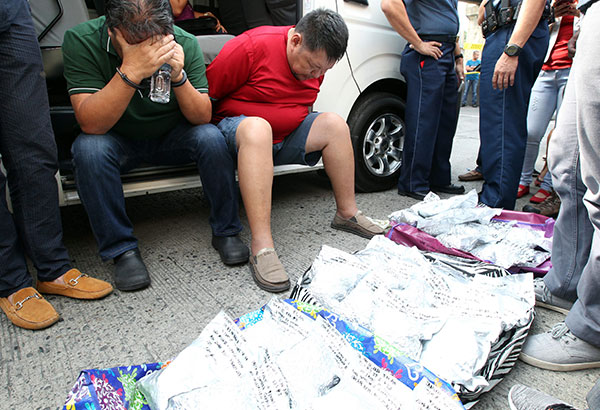 Police seized at least 11 kilograms of shabu and ingredients for bomb-making in a raid at the ancestral home of Albuera, Leyte Mayor Rolando Espinosa Sr. early Wednesday.
Joint teams from the local Albuera police and Philippine Drug Enforcement Agency (PDEA) raised Espinosa's home in Sitio Tinago Dos, Barangay Benolho at around 5 a.m.
The drugs, contained in plastic bags, were found in the house's kitchen cabinets.
The volume of drugs seized. from the house has a street value of P88 million.
The operatives also seized ammonium nitrate, blasting caps, firing wires and black powder.
Chief Inspector Jovie Espenido, chief of the Albuera police, said they were able to secure a search warrant on Espinosa's ancestral home after receiving positive information that kilograms of shabu are being stored in the compound.
Espenido said the information came from Espinosa's men who were arrested in past police operations.
He said that they will conduct more raids in the mayor's houses in Leyte as soon as they get search warrants.
He added that they have fresh information from one of the arrested men of Espinosa that several firearms are stored in one of the houses.
Espinosa surrendered to Philippine Natioal Police chief Director General Roland "Bato" dela Rosa last week and was allowed to stay for several days at the top cop's residence in Camp Crame, the White House.
While in Manila, policemen killed six alleged men of Espinosa in Albuera. The gunmen were killed in shootouts outside the residences of the mayor in Barangay Benolho.
Dela Rosa kicked out Espinosa from his official residence after the mayor's suspected drug lord son, Kerwin, failed to meet the deadline to surrender.
There are reports the mayor has been confined in a hospital in Cebu.
Police have yet to say if charges will be filed against the mayor for the seizure of drugs and explosives ingredients in his home.
Source:
Superbalita
,
GMA News
,
Du30news.com
So what can you say about this one? Let us know your thoughts in the comment section below, and don't forget to share this blog post to your family and friends online. And also, visit our website more often for more updates.