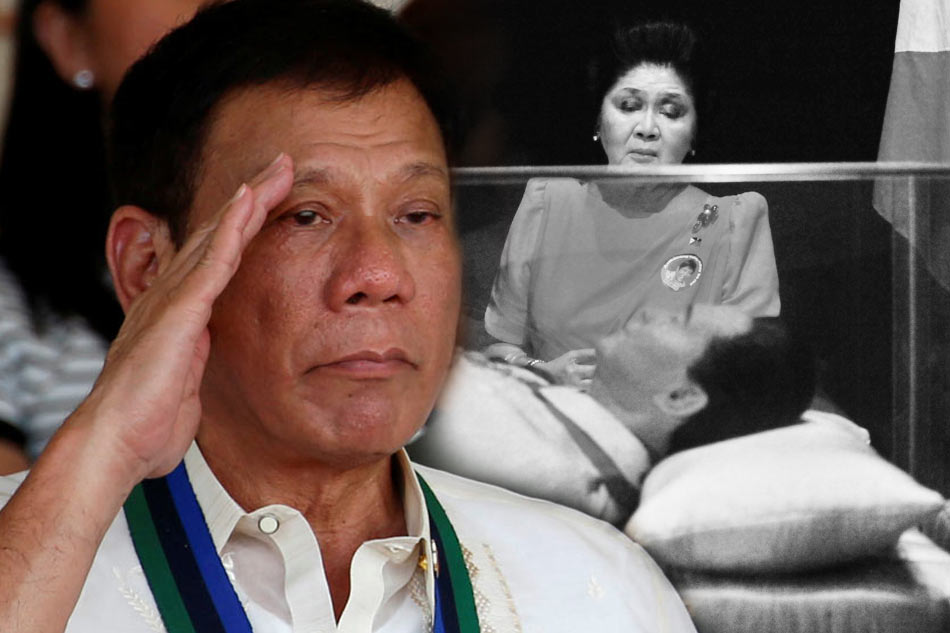 President Rodrigo Duterte on Thursday said he is only following the law by allowing the late dictator Ferdinand Marcos' burial at the Libingan ng mga Bayani, which has been set on September 18.
Duterte, on the sidelines of his meeting with Olympic silver medalist Hidilyn Diaz in Davao city, said Marcos was a former president and soldier, even if he was not a hero.
"The law is there existing. You read it a thousand times and you still arrive at a conclusion that he is qualified. Even if he is not a hero, he was a soldier," he said.
Armed Forces of the Philippines (AFP) guidelines allow former soldiers to be buried at the Libingan ng mga Bayani.
Senator Grace Poe, a rival of Duterte in the presidential race, however, said Thursday morning that a new law recognizing human rights victims during the Marcos regime is in conflict with the military's guidelines.
"We have Republic Act 10368, recognizing the human rights victims during the time of Martial Law, and I think that it is a more current law than the [old] law that was created identifying that anybody who's a soldier, or anybody who became a president can be buried at the Libingan ng mga Bayani," Poe said in an interview with ANC's Headstart.
Republic Act 10368, which provides reparation and recognition of victims of human rights violations during the administration of Marcos, was passed on 2013, and Poe believes it supersedes the AFP guidelines which Duterte cited.
"Just looking at that, this is a more recent law, so I think, I really believe that if we are to take this law seriously, having that burial there will be in conflict with that law," Poe added.
So what can you say about this one? Let us know your thoughts in the comment section below, and don't forget to share this blog post to your family and friends online. And also, visit our website more often for more updates.