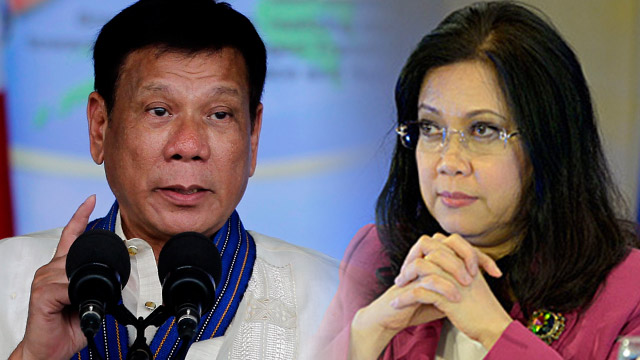 President Rodrigo Duterte gave a mouthful to Chief Justice Ma. Lourdes Sereno dipping her hands into his dirty war on illegal drugs.
"Please huwag mo akong orderan, hindi ako gago. If this continues, tigilan mo ako, sige pag nagwala na or would you rather that I will declare martial law. Pinapatay ang Filipino, I grieve for the so many woman raped, men killed, infants rape, tapos ipitin mo ako," said Duterte in a speech in Cagayan de Oro last Tuesday.
Duterte was reacting to Sereno's criticism of his decision to name 159 alleged narco-politikos including a dead judge without any solid evidence or case filed against them. Sereno also advised the alleged narco-judges not to "surrender" to Duterte unless an arrest warrant was issued against them.
"Ma'am huwag tayong magbolahan, and do not force the issue I respect your comment. Just because kayo ang Supreme Court, You order me, I will not follow you, orderan mo ako— bahala kayo diyan," said Duterte.
Duterte apparently has had enough of Sereno's preaching from her Padre Faure pulpit that he made some snark remarks just to put her back in her place.
Unlike Sereno sitting in her comfortable chair in her chamber all day and the administration who appointed her as Chief Justice, Duterte said he was actually sweating it out just to bring down the criminals.
"Ikaw tingin tingin diyan sa judiciary, ako president. Ako may trabaho ikaw wala—walang mga judges na mag-pa-patrol ng daan walang mga sherrif ninyo na naghuhuli. 'Yan ang mabigat na problema ko na- inherit ko sa dumaan, pati yung gobyerno na naglagay sa iyo diyan sa Supreme Court," said Duterte.
Duterte explained that he did not order the arrest of the narco-politikos but he just took this unorthodox strategy of publicly announcing their names to speed up the crackdown on the drug apparatus which has ensnared the country.
"I will order the military and police to save lives. I'm not saying that they should kill them. But in the meantime that you are projecting your theories there. There is crime on the streets…Do not create the conflict there because di tayo magkasundo. And please, please, please, please do not create a confrontation to Constitutional war, talo tayong lahat diyan," said Duterte.
So what can you say about this one? Let us know your thoughts in the comment section below, and don't forget to share this blog post to your family and friends online. And also, visit our website more often for more updates.