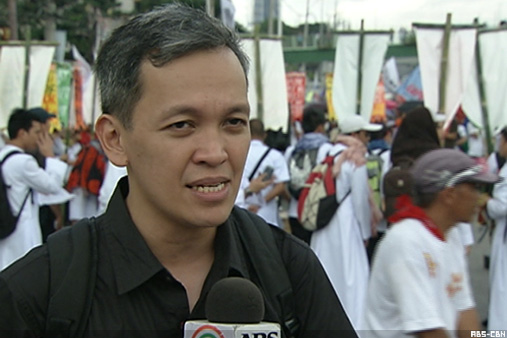 Bagong Alyansang Makabayan (Bayan) blasted the Duterte administration's endorsement to continue the pork barrel system in the 2017 budget after rejecting the P2,000 pension hike for Social Security System pensioners.
"How can government now justify not funding the SSS pension hike when it has funds for congressional pork?" asked Bayan Secretary-General Renato Reyes Jr.
President Rodrigo Duterte has rejected moves to implement the pension hike on the advise of his financial advisers who claimed it would bankrupt the pension fund or would require subsidy from the government which he does not want.
Reyes said that no matter how much they deny , the pork and patronage regime has continued with the special arrangements between the Executive and Congress allowing lawmakers to propose projects based on unwritten allotments even at the stage of crafting the national expenditure program by the executive that were no different from the much assailed Priority Development Assistance Fund which the Supreme Court had declared unconstitutional four years ago.
This one is a creative circumvention of the SC ban on post-enactment participation of lawmakers in identifying and implementing protects.
This will seriously undermine the Duterte government's pledge of a clean, corruption-free government. The proponents of the new pork are showing us that not much has changed, it's still business as usual, said Reyes.
[
SOURCE
]
So what can you say about this one? Let us know your thoughts in the comment section below, and don't forget to share this blog post to your family and friends online. And also, visit our website more often for more updates.